165th Anniversary Event
165th Anniversary Event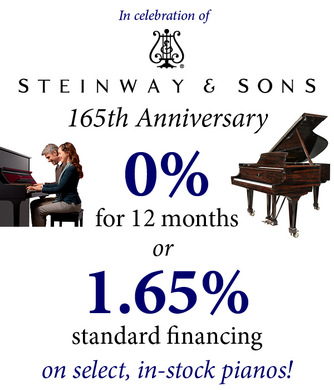 In celebration of Steinway's 165th Anniversary, Steinway Piano Galleries is offering factory authorized financing of 0% for 12 months, or 1.65% for standard term financing on select, in-stock models.
Founded in 1853 by Heinrich Engelhard Steinweg in New York City, the Steinway piano quickly became the most sought after piano in the world. Steinway & Sons retains this position to this day with over 9 out of 10 performing concert artists choosing Steinway over all others.
For many decades, Steinway has also designed the Boston and Essex brands. These are best in class instruments in mid- and entry- price points. Steinway-designed pianos start at $4,995.
This offering is available for a brief time only, and credit approval is required - check store for details.
Register for a complete listing of Steinway and Steinway-designed pianos eligible for these special terms today!
Locations
Phipps Plaza
3500 Peachtree Rd NE
Court of the South 2nd FL
Atlanta, GA 30326
(404) 814-9191
Alpharetta Showroom
5950 North Point Pkwy
Steinway Promenade
Alpharetta, GA 30022
(770) 777-1300
More Info Here!