Used Piano Clearance!
Used Piano Clearance!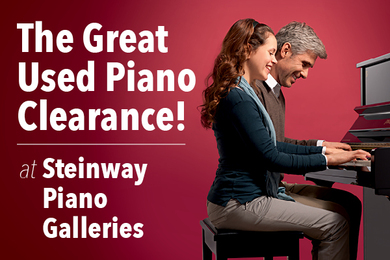 This weekend, save on Atlanta's best selection of used, rental return and studio pianos from the world's most famous names, including Steinway & Sons, Boston, Essex, Yamaha, Kawai, Roland & many more.
Choose from:
Used Pianos: Save on used models, trade-ins, rental returns and studio rotations, each professionally inspected and including a warranty, including a limited number of specially curated preowned, vintage and rebuilt Steinways.
New Grand and Upright Pianos: Choose from living room to concert grade grands and uprights from the legendary Steinway, and Steinway-designed Boston & Essex pianos.
Player Pianos: Save on Spirio, the world's finest high-resolution player piano, as well as player pianos from names like Boston & Essex.
Digital Pianos: Get special discounts on digital baby grands and uprights from Roland, the industry leader in digital pianos with SUPERNatural sound technology and grand piano type graded hammer actions. Plus, cabinets that look gorgeous in any space...
Locations
Alpharetta Showroom
5950 North Point Pkwy
Steinway Promenade
Alpharetta, GA 30022
(770) 777-1300
Find out more!