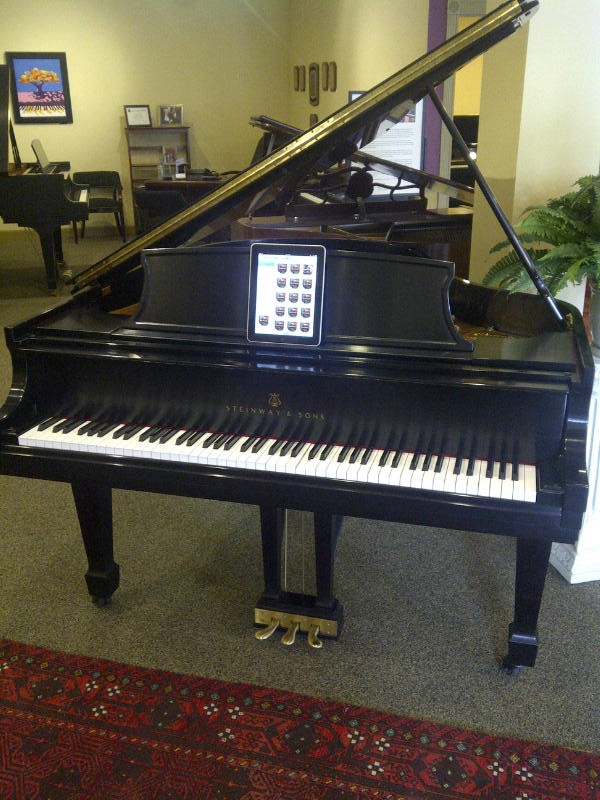 Just when you thought there couldn't possibly be a special buy on a hand crafted Steinway and Sons Grand Piano, this beautiful Model M Grand takes the cake. It is what we would called a slightly used, SLU for short….a new never-sold product that has been a floor model for several years. This particular one happens to be almost 7 years old but still looks and plays like a brand new 2012 model. It measure a mid size 5′ 7″ so it fits in the smaller rooms but also is long enough to accommodate the larger rooms too, making it Steinway's most popular grand piano size.
While it is mostly used in homes, it is also suitable for a smaller practice room or studio at a University or Music Conservatory. This piano typically has a very nice, mellow sound ideal for smaller spaces. The action is very responsive as it is equipped with Steinway's Accelerated Action (as are all Steinway pianos). This makes the action much faster and more responsive than any other manufacturer's action design. Along with nearly 125 other Steinway patents, this is the highest quality piano money can buy in this size range. It is finished in that beautiful lustrous satin black that Steinways are famous for.
What make this particular Steinway so appealing is that it is equipped with the latest technology in player piano systems, the current top-of-the-line Pianodisc IQ System, and it is completely controlled by an Apple Ipad so there isn't that unsightly box on the front of this rare Steinway Grand Piano. And talk about loaded…..this Ipad comes complete with the music of over 100 CD albums (over 720 songs) and over 80 Videos, in other words, thousands of dollars of software already preloaded in the Ipad that comes with the piano.
Imagine listening to the immortal Ray Charles singing his classics while the Steinway accompanies him live in your home.
You will be able to listen to the world's greatest pianists, Billy Joel, Norah Jones, Stevie Wonder, Elton John, Barry Manilow, Diana Krall, and the immortals like Horowitz and Rubinstein performing for you in the privacy of your own home. In addition, the videos allow you to watch the world's greatest entertainers and pianists play and sing their greatest hits for you while the piano plays live, its accompanying part. Artists like Ray Charles, Michael Buble, Andrea Bocelli, Elvis Presley, Frank Sinatra, Rod Stewart, Tony Bennett, and the list goes on and on and on, will entertain you and your friends for hours on end.
With this iPad – should you desire more music – you can download new music for the piano directly from a special website or you can connect to a radio streaming service to hear endless music played directly through your piano. With Pianodisc and Apple, there is no end to what you can do and accomplish with this player system, and, whether you play or not, to enjoy all of this music on the world's greatest piano, is heaven on earth.
You can inquire about our Used Steinway Pianos here.