Astoria, the popular northwest Queens enclave, is still home to one of the world's most famous brands despite its rapidly changing demographics and buzzy avenues.
Tucked away at the top of the neighborhood at 19th Avenue and Steinway Place, the Steinway & Sons piano factory still builds its iconic pianos from start to finish on the same property it's owned since the 1870s.
If you're like me and you have lived in Astoria without knowing Steinway & Sons is still in the neighborhood, now you know it's not just Steinway Street's namesake from long ago. It's actually still operating and turning out their gorgeous pianos.
Below are five "secrets" we learned about the factory during a recent visit.
1. Steinway Street in Astoria is named after the company
Steinway & Sons, which was founded in 1853 by German immigrant Henry Engelhard Steinway in a Manhattan loft on Varick Street, has owned and operated the same land in Queens since the 1880s. In fact, it owned 400 acres of land in the area and built a sawmill, a foundry and a streetcar line, eventually creating "Steinway Village" for its workers with a school. Eventually, it all got incorporated into Long Island City, but Steinway Street remains.
It has seen a lot of history, including World War II, when it manufactured glider parts for the government and G.I. pianos for the troops.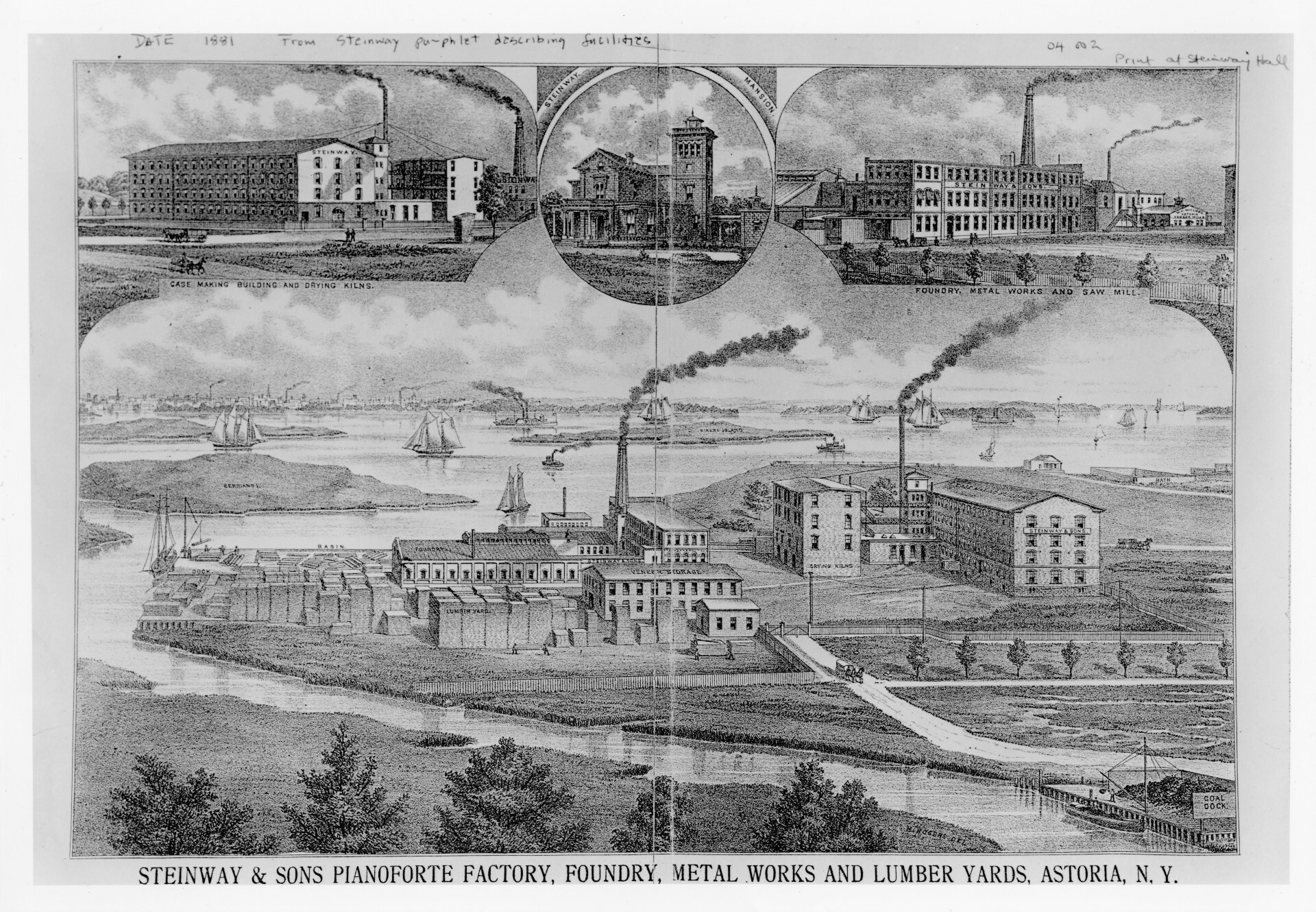 2. It only makes 1,300 pianos a year
Because making a single piano is such a long and painstaking process (they're each made by humans), the factory creates only six a day, and 1,300 a year. From start to finish, a single piano takes 11 months to craft. A single grand piano has about 12,000 parts.
Between its New York and Germany factories, Steinway & Sons makes 2,500 grand pianos and a couple of hundred uprights, according to Anthony Gilroy, the company's vice president of marketing and communications, who took us on the tour.
"When you see how big these places are—there are about 225 union workers to build six pianos a day—then you realize how much is going into each of them," he tells us on our tour. "Walking through the factory, you see hundreds of pianos in different stages of manufacture, but it's an 11-month process."
A single piano will move through various departments in the factory. Workers first select the wood crafting the rim, including rock maple from the Eastern U.S. and Canda, sugar pine and Alaskan Sitka spruce. The rim is bent into the iconic piano shape, which was patented by C. F. Theodore Steinway in 1880. Then, the case is dried again for several months and is trimmed to get rid of excess corners. It then goes to the "Belly Department," where "belly men" remove excess areas of the piano's bridge called "notching the bridge" and manually nail hundreds of pins in it to guide the forthcoming strings. A Steinway piano carries up to 40,000 pounds of tension from its strings.
Nearing the end of the patented process, the piano is sent to Keys & Action, where technicians use weights to check the weight and balance of each key. They ensure "fullness and brilliance of sound" by fine-tuning the instrument with an extensive tone regulation process. The keys are integrated with the piano and tested in the "Pounding Room," where each key is played up to 3,200 times and adjusted until it reaches "perfection." Finally, it is finished after it is sanded, painted and hardened.
3. 75% of its workers are immigrants
Steinway & Sons has unionized employees, many of whom have been working there for as long as 50 years and the majority of them come from other countries. It's always been that way, Gilroy says. "Today, the workers are mostly from Latin America, the Caribbean, Southern and Eastern Europe … our workforce is all coming together to do something special, they're building something that's best in class and known as a luxury product."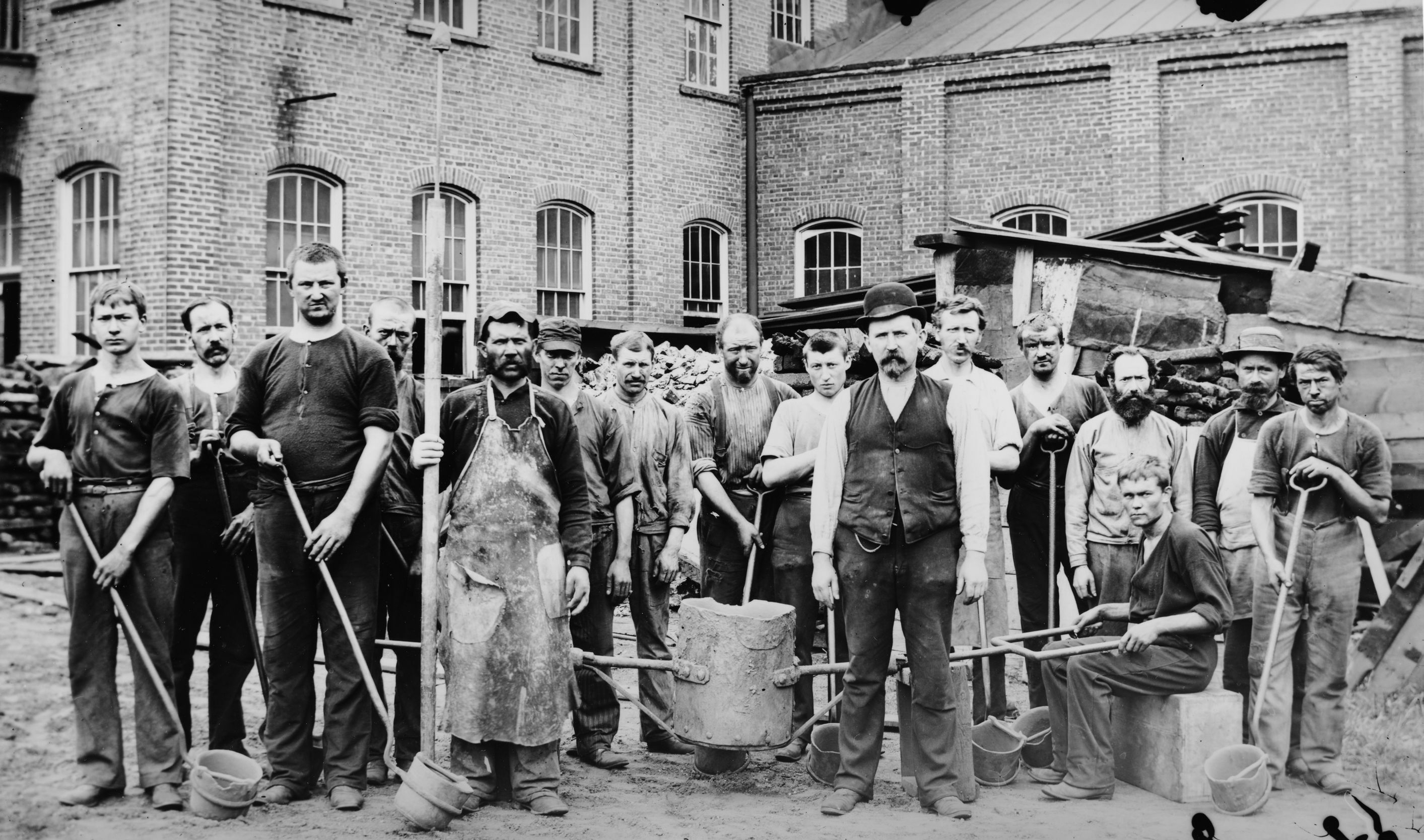 4. Celebrities visit the factory
Beloved musicians like Billy Joel and Regina Spektor among others have visited the factory because they exclusively use Steinway & Sons pianos (their signed posters decorate a hallway). Cole Porter, Sergei Rachmaninoff, Duke Ellington, Igor Stravinsky, Nina Simone and Arthur Rubinstein were some of the company's most illustrious customers while they were alive.
5. It recently sold land to Robert De Niro's forthcoming studio
Remember how the company owned 400 acres of land in Astoria? It sold off more of it (a storage area for finished pianos) in 2019 to Wildflower Studios, a massive film studio backed by actor Robert De Niro.
When it opens this year, the studio will be made up of "a mix of interconnected spaces" that includes office spaces, 11 sound stages, a fitness center, a slew of lounges, cafes and production-support areas.
The Bjarke Ingels Group designed what is apparently to be the first "vertical commercial film, television and film studio" in the world.
Read the original article at timeout.com