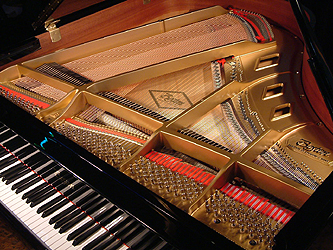 This Boston Baby Grand Piano GP156 is 5 ft. long and is also apart of a family of Steinway-designed pianos with over 30 design elements and patents from Steinway themselves. It is the third and newest edition of the Boston line-up and goes under the "Performance Edition" moniker since it is a piano for a more serious musician or student looking for an extremely high quality piano in a mid-price point
Like all Boston pianos, they have a wide-tail design that allows the 5' 1" Boston baby grand piano to have the same soundboard area as larger grand piano, generating the power, richness, and feel of playing a much larger piano. It truly sounds bigger than any other instrument of it's size from the current competitors on the market.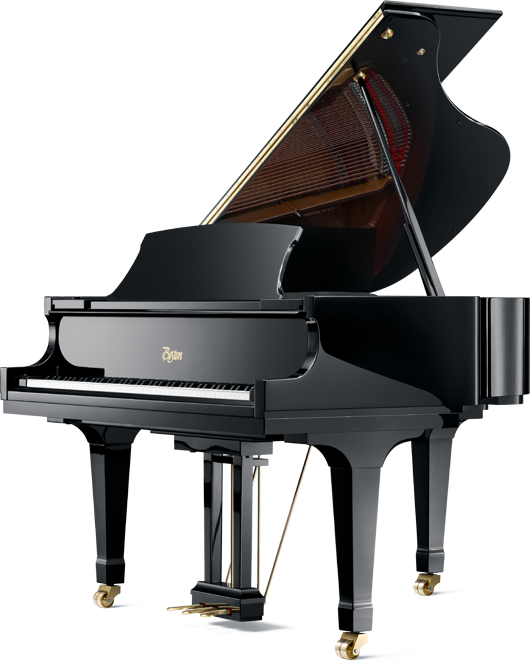 Beautiful walnut or mahogany veneers are available in either satin or polished finishes as optional upgrade alternatives to classic ebony black.
Some of the key improvements in the Boston "Performance Edition" line
are:
1. Hard-rock Maple inner rims for added stability, longevity and
improved tone and projection.
2. "Octagrip" pin-block – recent patent on a new pin-block design that
more closely resembles the actual Steinway pin-block. It improves tuning
stability and grips the tuning pins more effectively.
3. Plate bolts (as opposed to Phillips-head screws) that allow the plate
to be tightened down into the case more tightly – again increasing over
all stability and longevity of the instrument.
This is a great piano for homes and for institutions where the pianos
are being played a lot more than in most home settings. Steinway Piano Galleries of Atlanta is running some great deals on Boston pianos currently. Check them out.