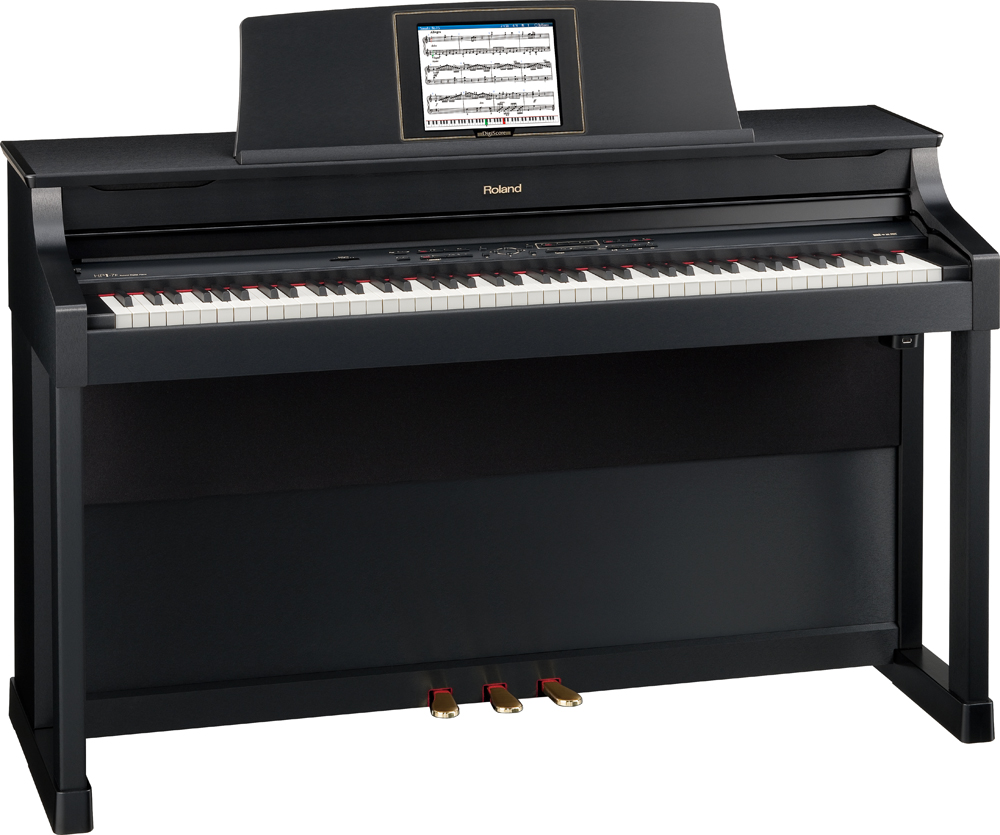 The Roland HPi-7 is a fantastic example of the type of Roland Digitals which Atlanta musicians have been enjoying for years. It allows the enjoyment and fun of creating music in your own home to even higher levels. It incorporates the technological advancements of  a color LCD screen, interactive visual lessons and great connectivity to provide an instrument which will encourage and reward anyone seeking to learn the piano regardless of their age and experience.
The Roland HPi-7 digital piano features an easy to read, wide color LCD display screen which enhances the unique Roland Digiscore notation and makes the interactive visual lessons easier to follow. The lessons provide a readily available music tutor with three programs for practice allowing music exploration for pupils of any age. The 128-voice polyphony feature together with the innovative key off resonance of tones combines to produce an authentic acoustic sound. This unique sound benefits from subtle tonal changes which occur when the keys become released.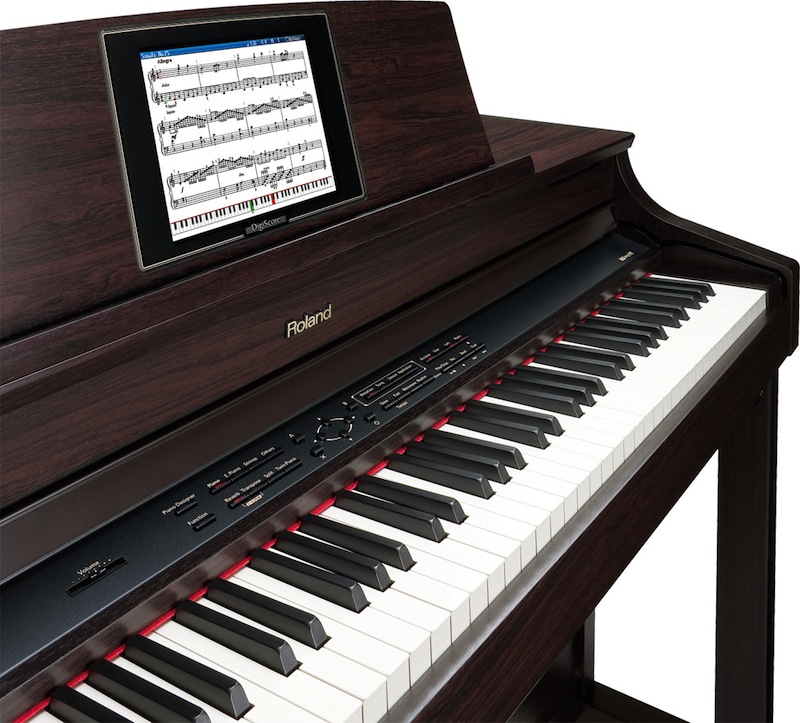 The HPi-7 also benefits from the library of Roland stereo sampled sounds of the latest pianos. This creates a realistic and authentic piano samples which creates a rich resonance of sound. There are a number of nuances of acoustic pianos which have been cleverly emulated and integrated into the software of the HPi-7 including damper resonance, hammer response, string resonance and velocity sensitivity of the keys.
Roland has filled it to the brim with innovations including the Digiscore screen which has been built into the music rest for optimum viewing. This feature allows the display of notations for all internal songs, recorded performances, midi files and downloads. There is a "bouncing ball" cue which helps the musician keep time as you are playing, while the pages are "turned" visually on the screen. This makes it an excellent teaching piano. There is a split screen facility which allows for a metronome to be set while looking at playback notations, or show the lyrics and notations simultaneously.

Connectivity is also impressive on the HPi-7. The ports for midi and USB together with two headphone jacks have been conveniently located for easy access on the front panel of the instrument. This makes it easy to play without the need for excessively long cords and cables.
The editing functions allow finger numbering to be added directly to the notations. It will also allow changes to song length and editing of individual notes within the music files. This can be easily accomplished while looking at the screen display of the music. You can even save notations to your music files as a bitmap, which can be transferred to your PC for sharing or printing.

Roland's HPi-7 provides visual lessons which can act as a personal music tutor. The interactive lessons feature three courses which include independent music exercises and songs with variable difficulty levels together with check, practice and review screens. This provides an excellent basis for learning and can supplement formal lessons, or teach on an independent basis.
If you are looking for digital Roland pianos, Atlanta musicians should seriously consider the HPi-7. It provides the optimum balance of authentic acoustic sound with all the innovations of an interactive digital piano. Right now we have one that just came into our used stock. See the Used Pianos.